Why Zamindar Microsurgical Eye Centre is the Best Place to Get Cataract Surgery in Bangalore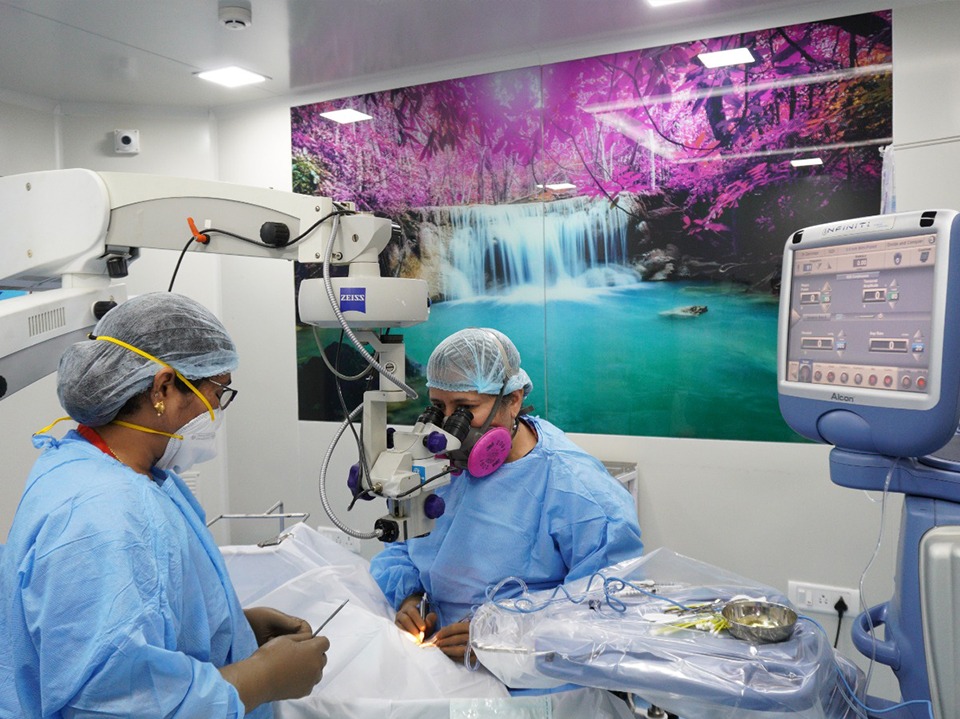 The human eye resembles a camera in many ways, and like a camera, it contains a lens. The lens's job is to focus and filter light entering the retina so that a clear image can be generated.
Our clean lens ages and becomes clouded and opaque due to a condition called a cataract. To Get Cataract Surgery in Bangalore visit Zamindar eye center, It is the Best Place to Get Cataract surgery.
Causes of cataract are:
Standard ageing process
Younger patients may develop secondary cataract as a result of eye irritation, damage, or steroid use.
The symptoms of Cataract: The initial stages of a cataract don't significantly impair your vision. You might feel a slight blurring of your vision, similar to peering through foggy glass or admiring an impressionist painting:
Blurred Vision
Light from the sun or a lamp seems too bright or glaring.
Increased glare from oncoming headlights when you drive at night.
Colours may not appear as bright as they once did
Treatment for Cataract: The only treatment now available on the globe is surgery to remove the cataract and replace the intraocular lens. MICS, or Micro-Incision Cataract Surgery, is the most sought-after method of cataract removal. We do completely bloodless, suture-free, and injection-free micro-incision cataract surgery (mics) at Zamindar's Microsurgical Eye Centre using the most recent Infinity Ozil Phaco System.
The only remedy accessible around the globe today is cataract surgery. Phacoemulsification is the most widely used method. Through a tiny incision, the cataractous lens is removed during this cutting-edge, complicated operation. The replacement of the human lens with an artificial one comes next.
Right Time to get the cataract removed: Early cataracts can be removed thanks to advancements in technology, so you don't have to suffer from steadily fading vision as you wait for your cataract to mature.
At Zamindar Eye Hospital, we prefer to do surgery on cataracts that are still developing or "unripe." If the cataract is allowed to mature, other problems including glaucoma and the hyper-mature stage may develop, making surgery more difficult.
Importance Of Accurate Assessment Before Cataract Surgery: Your eyes alone determine the IOL's power, which will replace the cataract in your eyes. To work efficiently following surgery, this must be carefully calculated. We have a full cataract workstation with optical biometry for precise calculation of the intraocular lens.
Options for Intraocular Lens: As a result of technological breakthroughs, our institute can provide you with post-operatively spectacle-free young vision using a wide variety of intraocular lenses.
Mono-Focal Intraocular Lens which helps in seeing far distances clearly (for reading, spectacles are required).
For patients with high astigmatism, TORIC IOL is the standard of care at our centre, these patients do not need additional cylindrical lenses after surgery for distance.
If a patient wishes to be spectacle-free, post-surgery, they can opt for Multi-Focal or trifocal IOL which ensures clear vision at far, intermediate and near distances.
Multifocal IOL or trifocal IOL are available for patients with astigmatism, as TORIC multifocal IOL.
Recovery after Cataract Surgery: We provide MICS or micro-incision cataract surgery. The process is rapid, without sutures, blood, pain, or injections. Wounds heal more quickly; you can return to your normal activities in a day.
For all patients having cataract surgery at our facility, we do scans called OCTs Optical Tomography Coherence to check for any retinal issues beforehand. We will be able to reassure you in advance of your postoperative vision.
Why should you choose Zamindar Microsurgical Eye Centre for your Cataract Surgery?
We have over 25 years of reputed cataract care services
We are NABH Accredited Eye Care Organisation
Certified as Covid Safe by the Quality Council of India
Infrastructure and Technology at Zamindar's Microsurgical Eye Centre
State-of-the-art OT with AHU (Air Handling Unit) with HEPA (High-Efficiency particulate air) filters
Hi-Tech Biometry for precise intraocular lens power calculation
Our Surgery Team: Senior surgeons with more than 20 years of expertise performing micro-incision cataract surgery.
Anaesthesia Protocol
We have an anaesthetist for all our procedures
We usually use Topical anaesthesia, only eye drops for 90% of our patients
For very few cases, peribulbar medial canal block is given, which is the safest and least painful anaesthesia method
Cashless Insurance Ease
Empanelled with ECHS for all defence Veterans & their families.
Tie-Up with all Insurance companies.
Expert Insurance team who will handle all paperwork efficiently.
The extra care you get at our centre: Personalized care with transportation (Complimentary if needed)